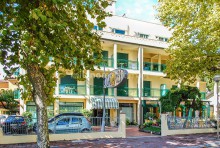 Hotel Gadames
Hotel Gadames of Cervia is a 3 star hotel close to the beach. Among the services provided it has parking...
Private Beach
free bimbi 2 anni
central location
a 100m dal mare
Recommended for children
large garden
beach in the price
near bus stop
a 15min dai Shops
Hotel Riz
The Hotel Riz is a family-run hotel surrounded by a large garden and just a few minutes from the sea...
family
offerte low cost
children free
quiet area
great food
Free Internet
Free whip
water with meals
animation for kids