Seashore area next to Milano Marittima, indeed it is usually called "Milano Marittima nord". It is situated at 3 km from Cervia and its life is extremely linked to the seaside tourism. It has two main boulevards, Romagna and Byron. The first one goes towards Lido di Classe, from which Lido di Savio is divided by the river. The second one goes from Lido di Classe to Milano Marittima. Due to its quietness this place is suitable especially for families.

One offer available
Hotel Mediterraneo
Hotel Mediterraneo is a 3-star hotel located at Lido di Savio, just a few steps from the sea and with...
Promotions family plan
in centro
children promotions
beachfront rooms
sea ​​view restaurant
large spaces
private parking
private beach
directly by the sea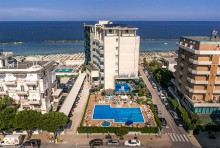 Club Family Hotel Palace Lido
The Club Family Hotel Palace Lido is distinguished by its care to wellness, relaxation and enjoyment for the entire family....
directly by the sea
unlimited open bar
washer & dryer free
tour ​​tax included
heated pool
animation sea / hotel
formula all inclusive
poss. dinner on the sea
pediatrician free